Percy's parents went on a cycling holiday in the early 1890s (or earlier) and I presume it was Percy's Father who took the photos here which he added to his Magic Lantern Slide collection, later to be inherited by Percy.
I think from memory that Maud used to say that they cycled, from where they were living all the way there and back, to Land's End in Cornwall.
They do say that a little knowledge is a dangerous thing. It would be going too far to call this "dangerous" but the previous version of this story was glaringly in error! As Dennis kindly pointed out it isn't Maud in these pictures! It's his mother Florence – as now amended.
I think that would have been Birmingham to Lands End (over 300 miles each way).
Can that possibly be correct that they cycled so far? It's just over 200 miles even just as far as Torquay, and a long way to cycle wearing what would now be considered to be highly appropriate clothing! Florence's full-length skirt must have got in the way more than a bit!
They would have been able to take their bikes on the train with ease. (The line to Penzance was completed in 1852.)
However, it is clear that although they possibly rode a remarkably long distance to Land's End. They may not have ridden any further than the distance from Penzance to Land's End, a distance of just 10 miles each way. I guess that we will never know the answer…
Subject: Florence – Near Lands End
Date: Florence looks young and if she was 30 at the time this photo would have been taken at some time around 1893, as her date of birth is 1863. But, I think it most likely that this was taken before they had their first child in 1887.
Take a look at the sign which says the "Last Hotel in England". It's referring to it being the "last hotel" on the road from Penzance to "Land's End" point.
Talk about travelling light! It doesn't look as if they even carried a change of clothes…
I said previously: "Could they have been on a trip from Torquay (Babbacombe?) where they could have been staying with Percy's sister Connie?" The answer to that is No! This slide seems to pre-date any family connection with Torquay.
To get an idea of the distance, even to have cycled from Torquay, and assuming they were two very fit people, it would have been an achievement. The distance is 125 miles each way from Torquay. The estimated bike journey time is about 12 hours even on modern bikes. They would have needed to have rested overnight at least once on the way (possibly at the hotel in the picture?).
The map below shows the route which they may have taken from Torquay to Land's End (although this route seems unlikely now as the slide pre-dates the time when any family were living in Torquay):
It looks to me (because Florence is probably wearing the same skirt) that the slide below was taken en-route to Land's End on the same cycling trip.
Subject: A young Florence posing for Percy's Father beside the Scilly Isles Ferry Boat, in Penzance, Cornwall.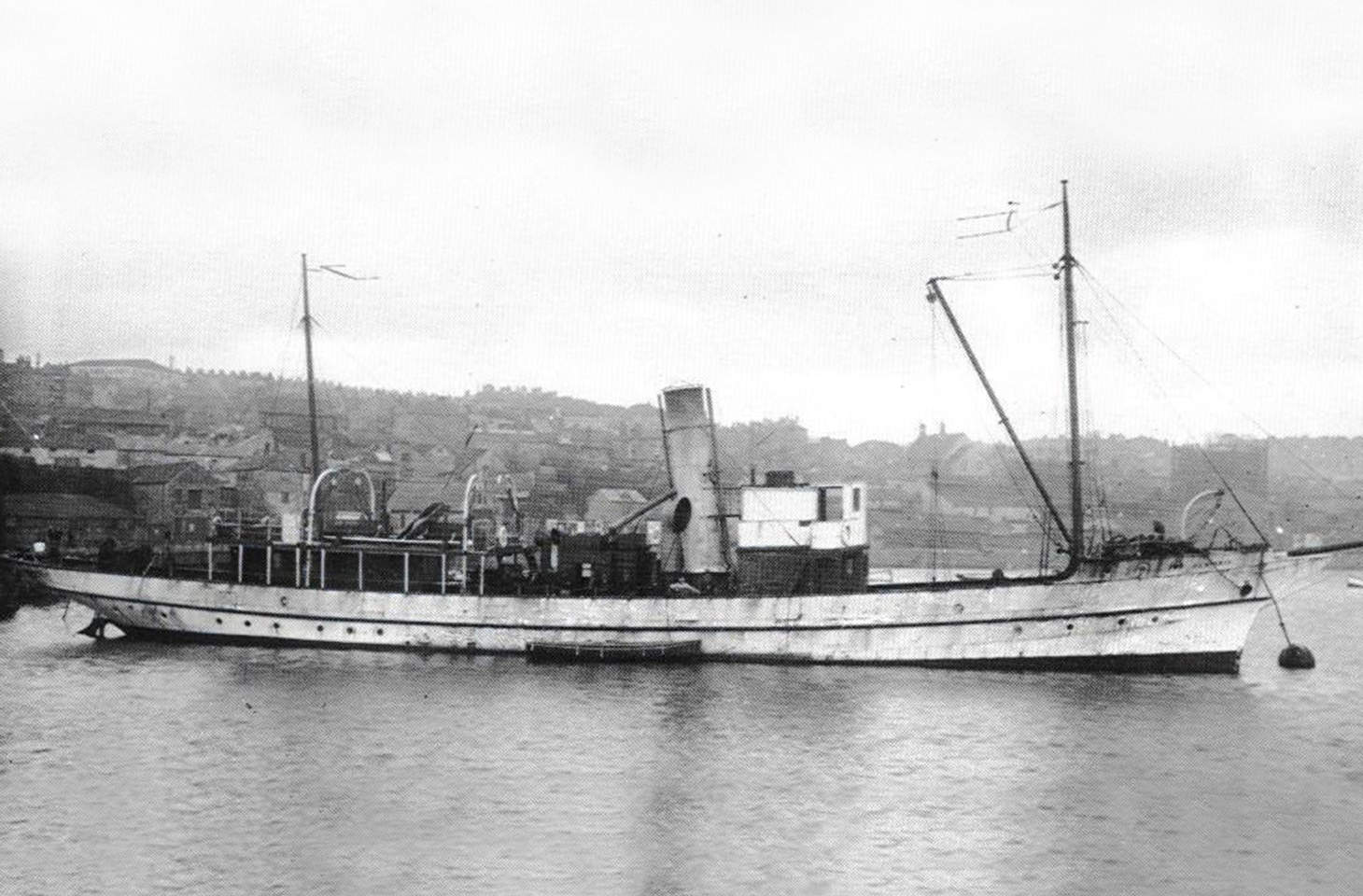 At that time steamboats were also rigged with sails. This image can also probably be dated to before Percy's parents had their first child (Frederick) in 1887.
Notes: Percy's Father (Richard) must have had to carry his camera with him on his bike. Quite an achievement I would think, given the size of early cameras!
Please, download this page as an ebook and keep it for the memory.
If after 30 minutes the email has not arrived please check in your email spam, and if it's not there Facebook Message me, or email me, and I'll gladly send you the link myself – Steve (lastraddie@gmail.com)
Enter your Name
Enter your Email Address