Image No. 16
Subject: Conway Bridge and Castle, North Wales, UK
Date:
Notes: A very early suspension bridge which is still there. Behind is a railway bridge.
Image No. 17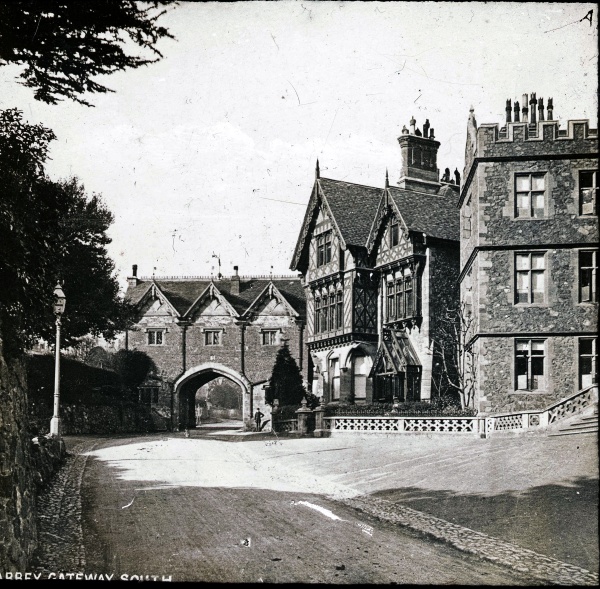 Subject: Abbey Gateway South
Date:
Notes:
Image No. 18
Subject: Venice?
Date:
Notes: I suspect that this must have been a bought slide, purchased when a family member visited Venice.
Image No. 19
Subject: A young Maud posing for Percy to have her photo taken beside the Scilly Isles Ferry Boat, in Penzance, Cornwall. In that time steam boats were also rigged with sails. This image can at least be dated to before Maud and Percy had their first child (Norman Stuart) in 1921. Maybe this was taken soon after they were married. I don't have any information on when they married… Can someone give me that date they married?
Date: Before 1921?
Notes: I believe that this slide must have been taken on a holiday when Maud and Percy rode their bikes all the way to Cornwall from South London. Percy must have had to carry his camera with him on his bike! I know he had several cameras, including a box camera. (I think he was actually quite under-impressed about my mother when, years later, she used a box-browny camera because he didn't think it was really a proper camera.)
See also the picture of Maud standing by the "Last Hotel in England". The reference to it being the "last hotel" on the road from Penzance to "Lands End" point. (See Image 23 in this Tray).
Image No. 20
Subject: Babbacombe Beach Donkey Riders – Left to right: Percy, Constance, and Frederick.
Date: circa. 1901
Notes: This photo is I believe a part of the set of photos taken during a trip to Bournemouth.
There is a clear class-system aspect to this picture.
Please, download this page as an ebook and keep it for the memory.
If after 30 minutes the email has not arrived please check in your email spam, and if it's not there Facebook Message me, or email me, and I'll gladly send you the link myself – Steve (lastraddie@gmail.com)
Enter your Name
Enter your Email Address